Cosmetic Teeth Cleaning for Dogs
Happy Tails Teeth Cleaning provides Ultrasonic Teeth Scaling and Hand Scaling for dogs,
without the use of anesthetic or sedation.
Visit "The Spa'w" for a luxurious experience for you and your doggie, located in the Royal Oak Shopping Centre. We also visit a few local pet salons in Sidney, Brentwood Bay and Sooke on a regular basis.
Our carefully perfected technique is considered cosmetic and is not to be confused with a veterinary procedure.
We do not perform scaling under the gum line, or tooth extractions/ repairs. If we determine during your pet's consultation that it requires deeper cleaning and/or extraction(s) it will be recommended that you see your veterinarian instead.
Regularly maintaining your animal's teeth can help reduce the number of visits to the vet for more involved (and expensive) procedures. Putting your pet under general anesthetic isn't always safe or necessary in many cases.
We treat every animal like it were our own. They will receive the utmost care and respect they deserve, and we are always looking out for your pet's health and well being. We are Walks 'N' Wags Pet First Aid Certified.
While not every animal is a candidate for our service, we have a high record of success and we will always work within our boundaries and the pet's safety.
Happy Tails Teeth Cleaning is Registered, Licensed & Insured.
Voted Best Pet Care Service in Victoria 4 Years in a Row by the Times Colonist Readers' Choice Awards 2018, 2019, 2020 & 2021.
Cheyanne Cave
Owner & Pet Oral Hygiene Specialist
Happy Tails Teeth Cleaning was founded in 2015 by Owner/Operator Cheyanne Cave.
Cheyanne has been formally educated and extensively trained with over 10 years of experience in the field.
Happy Tails offers Anesthetic-Free pet teeth cleaning and nail trims. She is K9OHA trained and Walks 'N' Wags Pet First Aid Certified (2017).
Cheyanne has an additional 10+ years of grooming experience to add to her repertoire of pet care.
Cheyanne and her Miniature Pinscher, Jake. Sadly beloved Jake passed away in June 2020.
Teeth Cleaning for Dogs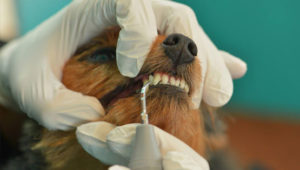 Ultrasonic Teeth Cleaning removes plaque quickly and painlessly, without the risks of anesthesia. This cosmetic procedure is non-invasive and does not damage tooth enamel. We love working with all types of dogs and there is no age limit.
---
Nail Trimming for Dogs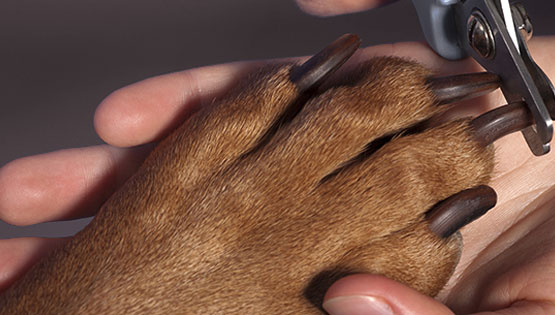 As an additional service, Happy Tails also offers complimentary nail trims for dogs after their consultation or teeth cleaning. If you don't trust yourself to do the nail trimming right, let a professional do it for you. Cheyanne will guarantee a painless and stress-free experience for your pet.