Cosmetic Teeth Cleaning for Dogs
At Happy Tails Teeth Cleaning we offer professional cosmetic teeth cleanings for dogs without the use of general anesthetic or sedation. When it comes to your teeth, you brush, floss (hopefully 😉) and visit the dentist/hygienist regularly to maintain a healthy smile. But what about your dog? Without regular attention to their oral health, your furry family member can develop bad breath, dental disease and a host of other problems. Trips to the veterinarian can be stressful and costly.  So what can you do? Here at Happy Tails, we will start with a thorough exam of your dog's mouth to look for any signs of gum disease, loose/broken teeth and growths.
If we do not find any concerns in your dog's mouth we will then proceed with a cleaning.
If we do find any of the above mentioned concerns we will refer you to your local veterinarian for further care.
We do not perform scaling under the gum line, tooth extractions/ repairs or treat gum disease.
All our furry clients are treated like they are our own. They will receive the utmost care and respect they deserve, and we are always looking out for your pet's health and well being. While not every animal is a candidate for our service, we have a high record of success and we will always work within our boundaries and the pet's safety.
Visit "The Spa'w" for a luxurious experience for you and your doggie, located in the Royal Oak Shopping Centre. We also visit a few local pet salons in Sidney, Brentwood Bay and Sooke on a regular basis.
Happy Tails Teeth Cleaning is Registered, Licensed & Insured.
Voted Best Pet Care Service in Victoria 5 Years in a Row by the Times Colonist Readers' Choice Awards 2018, 2019, 2020, 2021 & 2022.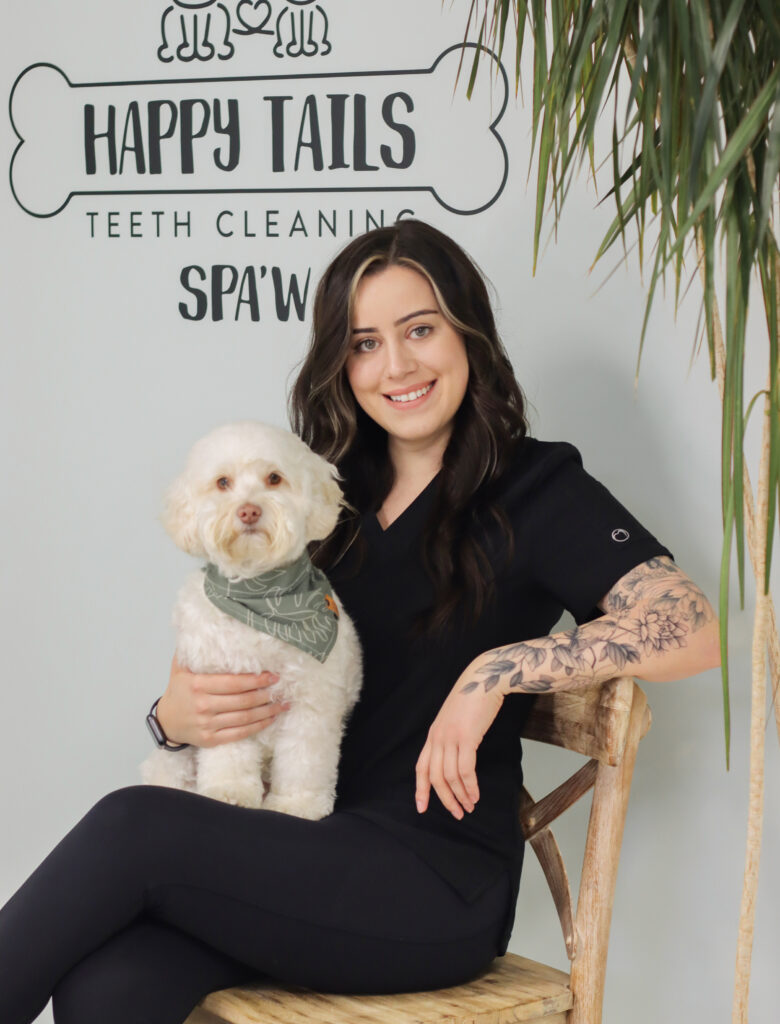 Cheyanne & Zoey
Hello, I am Cheyanne and this cute side kick is Zoey, my adopted rescue doggie from Mexico.  Together we own and operate Happy Tails Teeth Cleaning and would love to share a little bit about us and how we earned the title of Best Pet Care Service 5 years in row with the Readers' Choice Awards (2018-2022).
I started my journey with animals and their care when I was 12 years old. I spent my evenings and summer holidays working my way up to be a groomer.  After several successful years with bubbles, clippers and scissors, I transitioned into canine teeth cleaning. It wasn't long after that, I found my passion and life's work. I completed my training for Pet Oral Hygiene care in 2012. Then, In 2015, I opened Happy Tails. Back then, I would walk around neighborhoods here in Victoria, delivering postcards about my business and connecting with other local animal enthusiasts and business owners. My persistence and passion paid off and now I am now successfully running The Spa'w, my location in the Royal Oak Shopping Centre. When you and your animal visit the Spa'w, my hard work and dedication to your doggie's oral health is reflected in everything we do. From local treats to detailed charts of your pets oral health. We do not cut corners or gouge clients with extra costs. This and other business practices is why have been blessed with an incredible client base that has grown into my big extended family over the last 15+ years. I am so grateful for the respect I have earned in my field and the continued growth of my company. So much growth that I've recently brought in a couple assistants to help run the Spa'w.  Once again thank you for trusting and supporting myself and more importantly, your animals oral health.
Teeth Cleaning for Dogs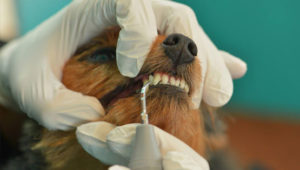 Ultrasonic Teeth Cleaning removes plaque quickly and painlessly, without the risks of anesthesia. This cosmetic procedure is non-invasive and does not damage tooth enamel. Although there is no age limit, we cannot accommodate dogs over the 80 pounds.
---
Nail Trimming for Dogs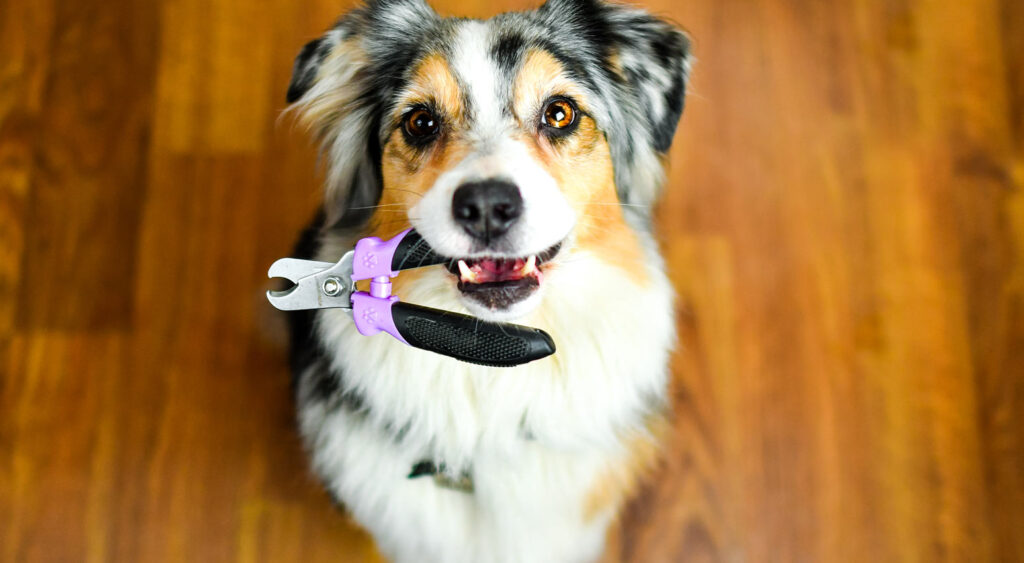 As an additional service, Happy Tails also offers complimentary nail trims for dogs after their consultation or teeth cleaning. If you don't trust yourself to do the nail trimming right, let a professional do it for you. Cheyanne will guarantee a painless and stress-free experience for your pet.