COVID-19 UPDATE & SERVICE ANNOUNCEMENT
In our effects to help stop the spread of the Covid-19 we have cancelled all Mobile In-Home appointments starting March 23rd 2020. That being said, Happy Tails Spa'w will remain open from Tuesday – Saturday. We have put strict protocols into place to help keep ourselves and our beloved clients as safe as possible. When clients and their doggie(s) arrive at the Spa'w we will come out and pick up your doggie with fresh gloves and a mask on and bring it into the Spa'w. During your doggie's teeth cleaning / nail trim appointment clients will remain in their vehicles. When we're done with your doggie, we'll return it to you with clean teeth and fresh nails! All equipment / electronics will be properly sanitized in between clients. We do ask that if you or anyone in your household is unwell to stay home and reschedule your appointment for a later day.
We thank you for your patience, understanding, and continued support of our small business, and wish you and your family the best. And to all that are fighting this on the front lines, thank you for your efforts, we appreciate your courage and sacrifice.
-Cheyanne, Happy Tails Teeth Cleaning
Anesthetic-Free Teeth Cleaning for Dogs & Cats
Happy Tails Teeth Cleaning provides Ultrasonic Teeth Scaling and Hand Scaling for your dogs and cats,
without the use of anesthetic or sedation.
Teeth cleanings can be done in the comfort of your own home, at our purpose built Spa'w or at several local grooming salons throughout the region. We operate in Greater Victoria, from Sooke and Sidney.
Our carefully perfected technique is considered cosmetic and is not to be confused with a veterinary procedure.
We do not preform scaling under the gum line, or tooth extractions/ repairs. These are jobs for your veterinarian.
If we determine during your pet's consultation that it requires deeper cleaning and/or extraction(s)
it will be recommended that you see your veterinarian instead.
Regularly maintaining your animal's teeth can help reduce the number of visits to the vet for more involved (and expensive) procedures.
Putting your pet under general anesthetic isn't always safe or necessary in many cases.
We treat every animal like it were our own. They will receive the utmost care and respect they deserve, and we are always
looking out for your pet's health and well being. We are Walks 'N' Wags Pet First Aid Certified.
While not every animal is a candidate for our service, we have a high record of success and we will always work within our boundaries and the pet's safety.
Happy Tails Teeth Cleaning is Registered, Licensed & Insured.
Voted Best Pet Care Service in Victoria 2 Years in a Row by the Times Colonist Readers' Choice Awards (2018 & 2019).
Cheyanne Cave
Owner & Oral Hygiene Specialist
Happy Tails Teeth Cleaning was founded in 2015 by Owner/Operator Cheyanne Cave.
Cheyanne has been formally educated and extensively trained with over 8 years of experience in the field.
Happy Tails offers Anesthetic-Free pet teeth cleaning and nail trims. She is K9OHA trained and Walks 'N' Wags Pet First Aid Certified (2017).
Cheyanne has an additional 10+ years of grooming experience to add to her repertoire of pet care.
Cheyanne and her 13 year old Miniature Pinscher, Jake.
Teeth Cleaning for Dogs & Cats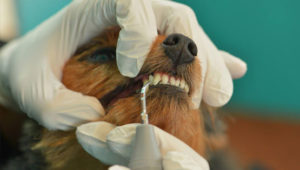 Ultrasonic Teeth Cleaning removes plaque quickly and painlessly, without the risks of anesthesia. This anesthetic-free technique is non-invasive and does not damage tooth enamel. We love working with all types of dogs and cats, and there is no age limit.
---
Nail Trimming for Dogs & Cats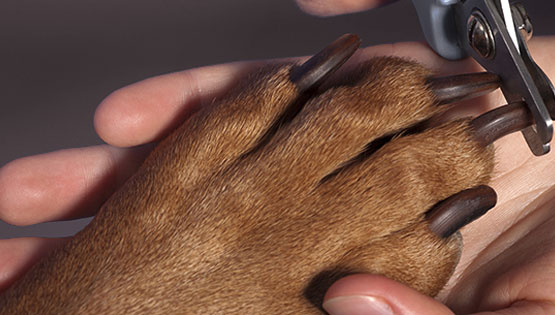 As an additional service, Happy Tails also offers nail trimming for dogs and cats after their teeth cleaning. If you don't trust yourself to do the nail trimming right, let a professional do it for you. Cheyanne will guarantee a painless and stress-free experience for your pet.
Results
Here is a sample of the results you can expect.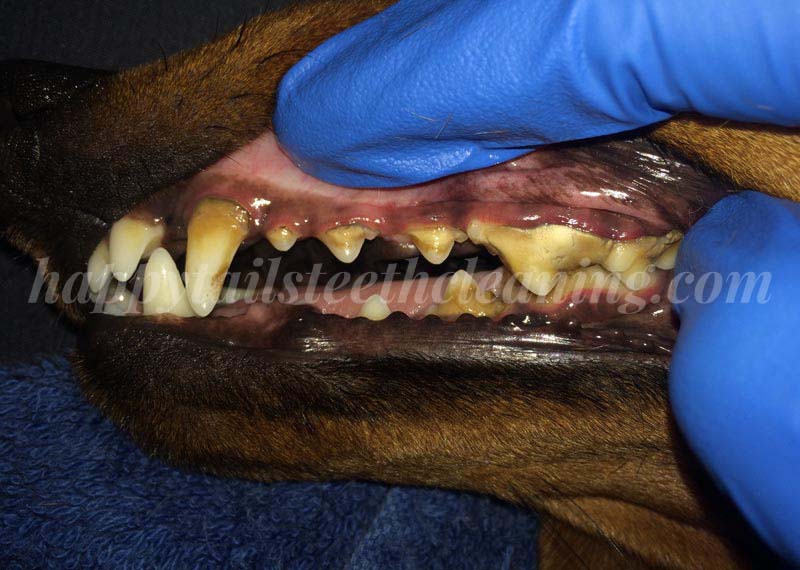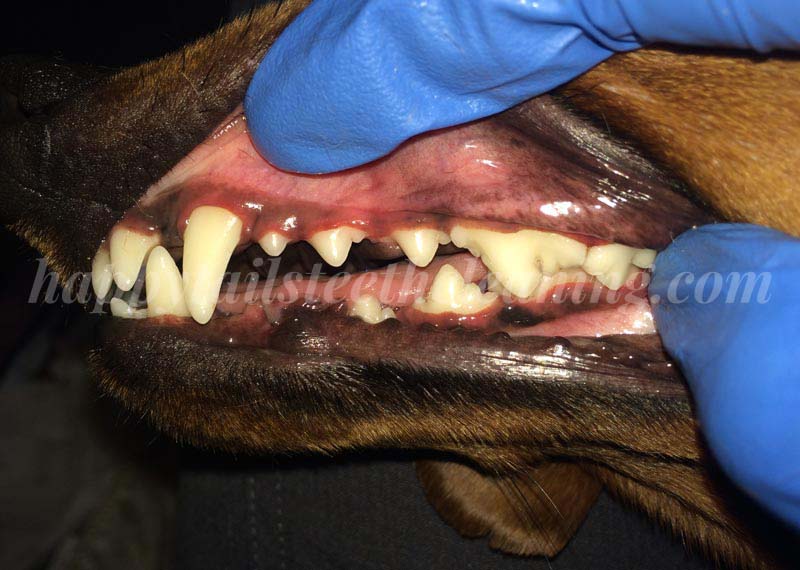 Slide the line to both sides to compare the difference between before and after the teeth cleaning procedure.