We are currently updating our website – watch for a new and improved site coming shortly.
A Mobile Anesthetic-Free Teeth Cleaning for Dogs & Cats.
LEARN MORE

The Best Choice For Pets Who Cannot Be Put Under General Anesthetic.
LEARN MORE

Teeth Cleaning For Your Dogs & Cats, All Done In The Comfort Of Your Home.
BOOK NOW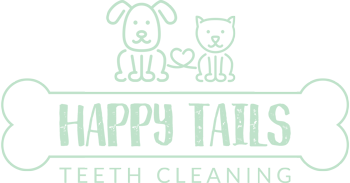 Mobile Anesthetic-Free Teeth Cleaning for Dogs & Cats
Happy Tails Teeth Cleaning provides Ultra-Sonic Teeth Scaling and Hand Scaling for your dogs and cats, without the use of anesthetic or sedation. Being a mobile company; teeth cleanings are done in the comfort of your home or local grooming salon.
This technique is considered cosmetic and is not to be confused with a veterinary procedure. We do not preform under the gum line, pocket cleanings and/or extractions. This would be very painful, as your pet is fully awake for the procedure. If we determine that your pet might be in need of a more drastic cleaning and/or extraction(s) it will be recommended that you see your Veterinarian instead.
We treat every pet with the utmost care and respect they deserve, and we are always looking out for your pet's health and well being. Putting your pet under general anesthetic isn't always safe or necessary. Happy Tails Teeth Cleaning is here to help safely maintain your pet's happy, healthy smile!
Happy Tails Teeth Cleaning is Registered, Licensed & Insured.
Meet Cheyanne
Owner & Oral Hygiene Specialist
Happy Tails Teeth Cleaning is owned and operated by Cheyanne Cave.
Cheyanne has been formally educated and extensively trained (in 2012).
Cheyanne offers anesthetic-free pet teeth cleaning and nail trims. She is K9OHA trained and Walks an Wags Pet First Aid Certified (2017). Cheyanne also brings an additional 5+ years of grooming experience to the service she provides!
Travelling all over Greater Victoria including Sooke & Sidney. House call fees apply for certain locations.

Services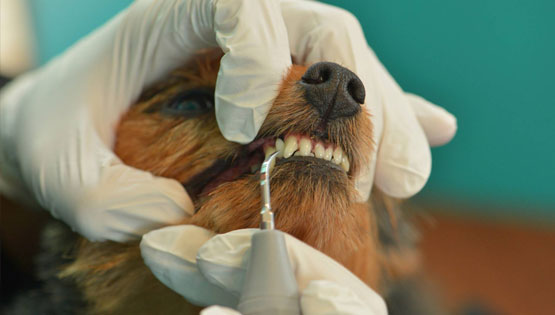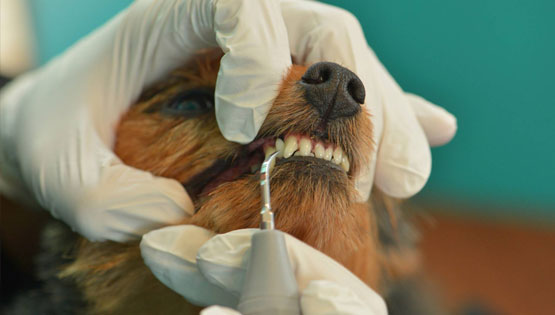 Teeth Cleaning for dogs & cats
Ultrasonic Teeth Cleaning removes plaque quickly and painlessly, without the risks of anesthesia. This anesthetic-free technique is non-invasive and does not damage tooth enamel. We love working with all types of dogs and cats, and there is no age limit.
LEARN MORE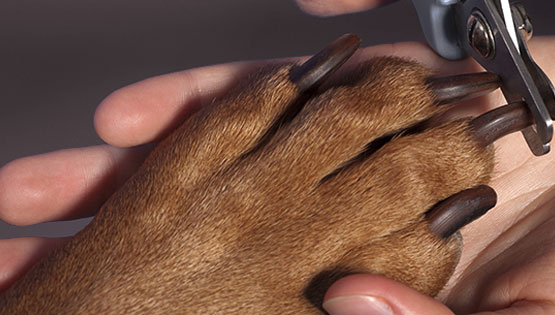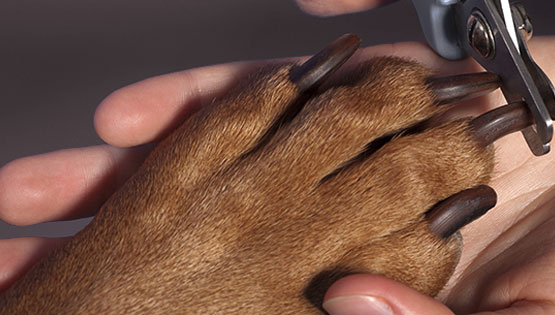 Nail Trimming for dogs & cats
As an additional service, Happy Tails also offers nail trimming for dogs and cats after your pets teeth cleaning. If you don't trust yourself to do the nail trimming right, let a professional do it for you. Cheyanne will guarantee a painless and stress-free experience for your pet.
Results
This is a sample of the results you can expect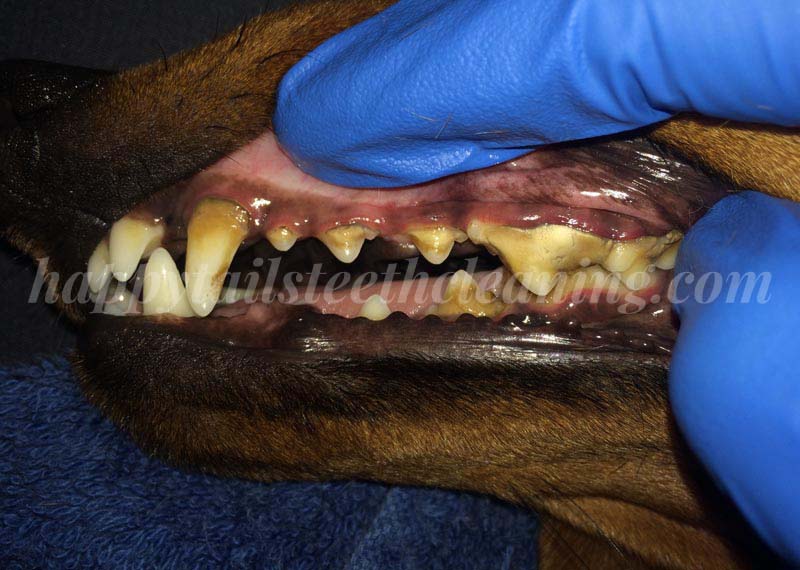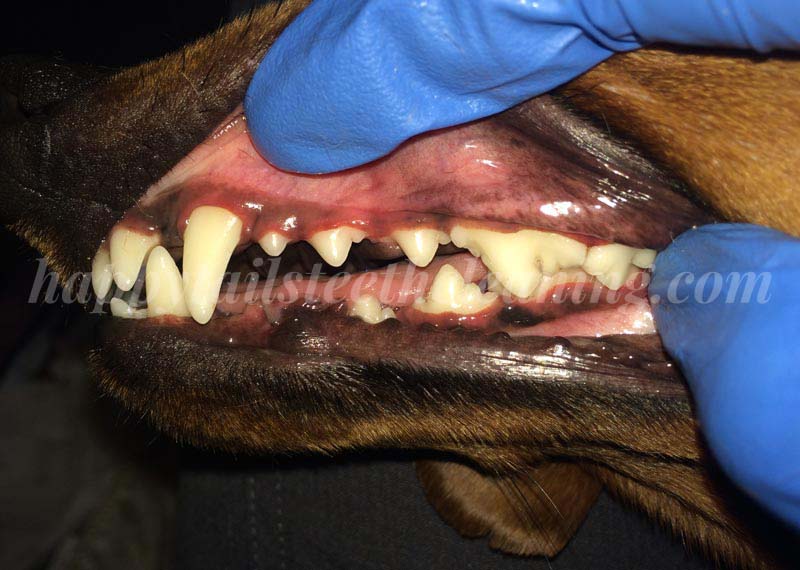 Slide the line to both sides to compare the difference between before and after the teeth cleaning procedure.
Testimonials
See what our clients have to say about Happy Tails
"Cheyanne, we would like to express our sincere appreciation for the way you have cared for our dogs' teeth. We realize the importance of good oral health for their overall well being.I will always remember fondly how sweet and gentle you were while cleaning Milly's teeth for the last time. His tolerance level was not great while he was fighting his battle with cancer and he wouldn't let us brush his teeth properly like he used to. You made him feel so safe and comfortable, it was really neat to see him trusting you like that. He almost fell asleep in your lap!Thank you once again for the excellent job you do and for your impeccable work ethics. It is a true pleasure to deal with a friendly and reliable professional such as yourself."

MONICA M.
Minty & Milly's owner
"I honestly do not know what I'd do without Cheyanne! She is the the best with my dog Moxie when it comes to teeth cleaning and claw clipping. And she makes my life SO easy by reliable contacts when Moxie is due for services; I never have to worry about remembering. Please never stop doing what you do, Cheyanne; we NEED you!"

VICTORIA M.
Moxie's owner
"Little Luna and I had a wonderful experience with her first teeth cleaning! Convenient, professional, inexpensive and very loving!"

KATHY K.
Luna's owner
"Thank you for the special care you took with Abel, Cheyanne! This was the first time you worked with him, and you took special care to ensure he was comfortable and well cared for. Additionally, you helped me remove that nasty spear grass from his paw that I didn't see – I am SO thankful! I would happily recommend your services to everyone after seeing firsthand your care and expertise."

HOLLY L.
Abel's owner
"This is 5-star business, run by an amazing 5-star lady, who understands and loves animals health needs, especially when it comes to their teeth. Plus she has a heart of gold and she treats your loved ones/pets like they are part of her family, because they and you deserve the very best. If your pets need any teeth cleaning this is the business and the lady to do it, because she is one the best."

HON S.

Try Mobile Pet Teeth Cleaning, we'll come to you!
Travelling all over Greater Victoria including Sooke & Sidney. House call fees apply for certain locations.

Book Now!